Russian women are one of the most beautiful women in the world, hands down. There is no way I'm going to discuss that; it's a fact. They have this phenomenal beauty and amazing skin. And that beautiful skin of theirs, that is what I'm going to discuss today! Because those clever Russian ladies have a trick for their beautiful, glowy skin. It's simple and you don't need anything but your hands and a moisturizer. I have a video for you, too!

Oh and can I have a little moment to praise the beauty of Natalia Vodianova, one of my favourite models of all time?
Sigh.. Such a beauty... Okay, carry on!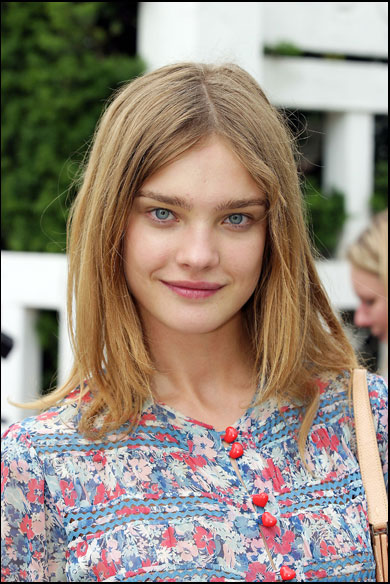 Source
Natalia Vodianova without make-up
A long time ago I discovered this long kept secret of the Russian woman. The Russian woman has a secret to her youthful skin and it's not botox (even though cosmetic "retouches" are very popular in Russia). Their skin stays this beautiful (and wrinkle free) because... they slap it. You read that right, no need to re-read it. They slap their face. Instead of the casual and quick face rub when applying moisturizer, they slap it on their face!
I've tried this too and I've got to say: I. Love. It. Yes, I do. I can really feel my skin tingling and the next day (I do it in the evening) you can definitely see a difference. My skin glows more and looks more healthy. Now, before you go Chris Brown on yourself, please keep in mind that you have to do it carefully. I also found a video for you to watch. This lady is kinda rough on herself, and I don't recommend you doing it as roughly as she does it. Especially if you've never tried it. Try to estimate how much you can handle without ending up crying and cursing me. Also, be careful around the eyes.
While searcing for this video, I discovered another lady who does face exercises! Without slapping herself. The exercises are hilarious to watch (and to practice, trust me), but looking at her beautiful skin, I'm sure they work! I've only tried a few of her exercises while typing this and I had a good laugh, so I can't tell if they work or not. I'll leave the testing up to you!
Even though I'm not Russian (I WISH!!!!!!!!!!), I thought I'd share this beauty tip with you! We all strive for that beautiful skin and with this easy tip/these easy tips, you don't need any botox or fillers or an expensive anti age/lifting day cream that doesn't work anyway.
Hope you enjoyed reading it!
What is your "crazy" ritual for beautiful skin?